By Anna Kochetkova
I spent the first 22 years of my life in Russia. At first glance, you may say that Russia's homophobic attitudes did a good job at erasing queerness from my life. However, queer people have always existed in Russia, never mind the state's opinions. That said, for me personally, life was pretty queerless. Or was it? 
Today, looking back, I am not so sure. In fact, during a nostalgic evening with some friends one night I took a group of multicultural queer folk through the songs of my childhood. Every single person pointed out how indeed queer my musical repertoire was. I had no clue!
I left Russia in 2008. In 2013, Russia passed legislation "aimed at protecting children from information promoting the denial of traditional family values." This legislation banned the "promotion of non-traditional sexual relations to minors"—a reference universally understood to mean a ban on providing children access to information about queer people's lives. The ban includes, but is not limited to, information provided via the press, television, radio, and the internet. The legislation applies to the gay community; however, it certainly extends to all the letters of the LGBTQIA+. 
Despite its raging homophobia, Russia loves their flamboyant gay men. Some of our most popular music, theatre, and arts  productions are headed by gender-defying characters: Philipp Kirkorov (born in Bulgaria), for example, with his glamorous makeup and diva personality, is one of the most well-known showmen in the country and Boris Moiseev (born in Belarus), a beloved Russian singer, choreographer, dancer, writer, actor, head of a dance group and author of popular shows, has been the Elton John of Russia for many years. Many Russian showmen wear dresses and makeup on stage and TV and most of them attribute it to their theatrical paraphernalia and/or marketing strategy.
Let's take a dive into three queer pop culture icons that I grew up with in Russia.
Ruki Vverh: "He Kisses You"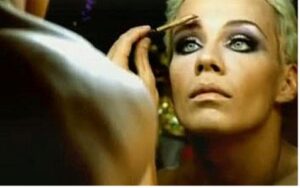 Ruki Vverh! is a name of a Russian pop and dance musical duo Sergey Zhukov and Aleksey Potekhin (eventually just Sergey Zhukov). You may know their "La la la la la la…." song, which became number one in Germany, Austria, and Switzerland, and entered the Top-20 in many countries worldwide, including the U.K. and U.S. in 2000. I fell in love and broke my teen heart listening to the song "He Kisses You" over and over again. This part love drama, part drag queen makeup tutorial was epic and novel to me at the time. And yet, a flamboyant gay couple making out on a park bench in the video clip didn't flag queerness. It took a few more years and a few people pointing it out for me to notice the obvious.
t.A.T.u.: Gay for Pay?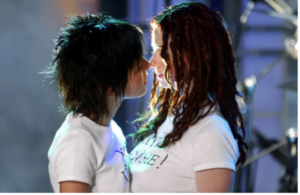 You may have heard about t.A.T.u. and may have even listened to "All The Things She Said" and "Boy Gay," popular songs of this rather controversial musical duo. The band was formed in 1999 by music producer Ivan Shapovalov and his business partner, who wanted to create a Russian musical project with teenage girls at the center. They apparently drew inspiration from the Swedish film Show Me Love, which centers around two schoolgirls who find themselves in an unexpected romantic relationship.
Lena Katina and Julia Volkova were very successful and popular at first. And for many of us, it was the first time we saw two women in love on TV, so public, so sexual, so rebellious. In fact, back in 2002, their song "All the Things She Said" got banned in the U.K. as it was claimed to pander to lesbians and pedophiles. t.A.T.u represented Russia in Eurovision 2003 and came in third. Perhaps most importantly, the girls represented much more to the closeted queers in Russia and the world.
It was later revealed that the girls' queerness was not authentic, but rather, a marketing strategy driven by the producers. Their music career started to go downhill from here, especially after their song called "Disabled People," the video clip of which depicted partying and queer folk. Futhermore, Julia Volkova stated that she wouldn't accept having a gay son.
This was a very rocky piece of queer pop culture for me.
Verka Serduchka: Ukrainian Drag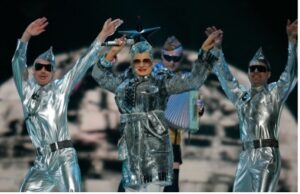 Andriy Mykhailovych Danylko (born in Poltava, Ukraine), better known for his drag stage persona Verka Serduchka, is a Ukrainian comedian, and pop and dance singer. He represented Ukraine in Eurovision 2007 and came second. Well before that, Andriy presented Verka Serduchka publicly for the first time in a Poltava comedy competition on January 4, 1991. Although Andriy spoke about his heterosexuality in numerous interviews, he was my first introduction to drag, which felt especially spicy at the time. In 2013, Andriy bought a Rolls-Royce that once belonged to Freddie Mercury, and that is pretty awesomely queer to me. 
***
Russia continues to oppress queer communities, including Chechnya's anti-gay purge, which started making national headlines in 2017. Since then, hundreds of gay and bisexual Chechen men have been abused and detained in the semi-autonomous Russian region, according to Human Rights Watch. The spread of homophobic and transphobic violence and everyday harassment against LGBT+ people and activists in the country continues to escalate with very little attention from the outside world, creating a challenging environment for prominent queer pop culture. Although there are many queer Russians in the country, the dominant narrative continues to deny their existence, punishing anyone who dares to claim otherwise. I was born into this world, thus I learnt to hide my thinking and my feelings even from myself, rendering myself blind to the queer pop culture around me.
It took me the next fifteen years to start unlearning the harmful aftermath of my indoctrination, leading me to revisit some of the dearest pop culture moments of my life.  Those moments may seem rare and subtle, but they gave me hope and a different vision of my life, albeit I may have not realized it at the time. My childhood wasn't so queerless, after all.
Anna Kotchetkova lives in Australia. She is the author of Bi & Prejudice.