Bi Women Quarterly is a grassroots publication produced by the Boston Bisexual Women's Network. We have been in continuous publication since 1983, and are the oldest bisexual+ women's publication in the world, with an international readership.
Bi Women Quarterly features the voices of women with bi+ sexualities (i.e., bi, pan, fluid, and other non-binary sexualities). We see "woman" as a broad category with space for an array of gender identities and expressions. We welcome contributions from bi+ women who identify as trans, non-binary, cis, and beyond.
Back issues from 2009 to the present are available here. We cover a wide range of topics, including Pop Culture, Bodies, Chosen Family, What I Want, Coming Out Stories, Violence & Recovery, Bi_ Creativity, Bi+ Spaces, Does Gender Matter, Labels, Out at Work–or Not, Partnering with Men, Pick a Side, Mixed Marriages, The Bi*-Trans* Connection, Voices of Youth, Faith & Spirit, and more.
Issues from 1983-1998 have been digitized and are available at Harvard University's Schlesinger Library.  This resource is available to researchers and to the general public through Harvard's catalog and directly on the web. Here is a 10/24/2016 post from the Radcliffe Institute for Advanced Study about this project.
Articles and artwork appearing in the Bi Women Quarterly are copyrighted by the authors and artists.
The Boston Bisexual Women's Network is an all-volunteer organization based in Boston.
IF YOU LIVE IN THE BOSTON AREA…
We host social events for Boston-area bi+ women and their women friends. Want to host one of our monthly brunches, volunteer, be the woman who coordinates the brunches or help out with our website (we use WordPress)? Or, if you're a student, consider an internship. If you are interested in helping out, please click here.  And, of course, we welcome your donations.
STAFF
Editorial Assistants: Alexa Beckstein & Kalea Young-Gibson
Skip
Robyn Ochs - Editor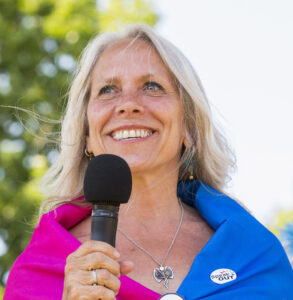 Robyn Ochs is an educator, speaker, grassroots activist, and editor of Bi Women Quarterly and two anthologies: the 42-country collection Getting Bi: Voices of Bisexuals Around the World and RECOGNIZE: The Voices of Bisexual Men. An advocate for the rights of people of ALL orientations and genders to live safely, openly and with full access and opportunity, Robyn's work focuses on increasing awareness and understanding of complex identities and mobilizing people to be powerful allies to one another within and across identities and social movements. Robyn was recently named by Teen Vogue as one of "9 Bisexual Women Who are Making History."
Katelynn Bishop - Assistant Editor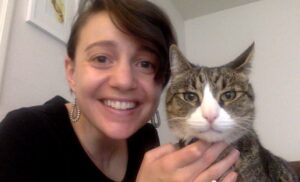 Katelynn Bishop is a sociologist, educator, and advocate for social justice. She earned her Ph.D. in Sociology with an emphasis in Feminist Studies from the University of California, Santa Barbara, and now teaches Sociology at a community college in California. She is particularly interested in teaching and writing about intersecting inequities related to gender, sexuality, race, class, ability, and other social categories, including the ways these injustices are experienced and resisted through embodiment. When not teaching, being involved in her community, or editing BWQ, she can be found admiring her adorable cat, Edgar.
Other staff - contact us about joining our team.