Reviewed by Miles Joyner
While in my last year of high school and throughout my entirety as a college student, I worked in a bookstore. During the first years of this six-year venture, I spent a lot of time organizing, reorganizing, and finding ways to make our graphic novel and comic section better. This went on for the entirety of the time I worked at the store, so much so that I had a memorized catalogue of all the comic books and graphic novels we sold (though I often used this knowledge just to know which ones went on sale so I could buy them myself). In summary, I discovered I had a love for comics and graphic novels. 
I remember the joy I felt when I saw the LGBTQ+ anthology Love is Love, published after the Pulse Massacre, and the collective excitement shared between all of the LGBTQ+ staff as we took turns buying copies that slowly trickled in over the next few months. Kathryn Calamia and every single artist, writer, designer, and anyone else who had a hand in the making of the Bi Visibility anthology, have all reignited that moment of joy.  
All comics featured in this anthology offer a different look into bisexuality and bisexual stories—from the emotion of coming out to an aging grandparent, to the classic struggle of clinging to your bisexuality while appearing "hetero." This latest project of Calamia's truly has something for bisexuals of a variety of backgrounds tucked into bite-sized pieces of comedy, drama, and autobiography. It's hard to pick a favorite, even for Calamia herself who, when asked, said "I love every story in this book for different reasons […] I really love the range we were able to collect from differing experiences and genres."
The diversity of the stories is perfectly matched by the diversity of art styles found in each comic. Each story has illustrations as unique as the writing, pairing perfectly with each other to emphasize the emotion of the text and the energy of the characters within them. 
Bi Visibility is an anthology that provides representation I have never seen before; it represents the bisexual community in a way that truly highlights the diversity within it. Kathryn Calamia and those working alongside her have earned a permanent place on my bookshelf with this graphic novel (maybe not too permanent as I'm sure I'll be lending my copy out very frequently) alongside Love is Love and Queer, A Graphic Novel.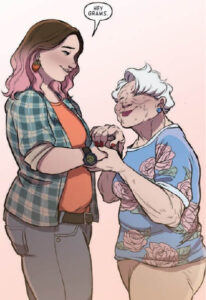 ---
Thank you to Kathryn Calamia for permission to reproduce images from Bi Visibility.