After a hiatus, we are bringing back the Research Corner to Bi Women Quarterly. We are looking forward to using this section to overview current academic research on all things bi+, such as mental and physical health, wellness, culture, advocacy, and more. We see this as an important way to make sure that the bi+ research conducted by universities, governments, and non-governmental organizations, is accessible to the community that it discusses. Research can help us learn about risks and challenges, as well as strengths of individuals, and communities. In turn, this can help us understand our bodies and identities, and foster advocacy for such communities.
The Research Corner is co-edited by Dr. Beverly Yuen Thompson, Professor of Sociology, Siena College, New York, USA, and Dr. Nicola Koper, a biology Professor at the University of Manitoba, Canada. The Research Corner will feature a variety of writers.
Most Research Corners will feature one or two short articles. Because the theme of this issue is bi+ health, this issue includes several. We hope you find these articles helpful, and we welcome your feedback and suggestions for future issues.
---
Dr. Beverly Yuen Thompson is a professor of sociology at Siena College, in Albany, New York. She teaches courses on deviant behavior, media, social movements, gender, race, and embodiment. She earned her Ph.D. in sociology from the New School for Social Research, in New York City, for which she wrote a dissertation on the Global Justice movement and the direct-action tactics the activists utilized during mass demonstrations at the WTO, IMF, and World Bank meetings in 1999-2001. Beverly earned a master's degree in women's studies from San Diego State University, for which she wrote a thesis on bisexual and mixed-race identity overlap, which resulted in several publications. Most recently, Beverly has published articles and two books about women in the tattoo subculture, digital nomads, media representation, and reproductive rights. Beverly enjoys traveling (pre-pandemic) and taking up random hobbies, such as learning to fix up her house, crafting in resin and concrete, collecting reptiles, and growing plants. You can find her on social media platforms.
https://www.youtube.com/c/SnakegirlProduction
https://www.instagram.com/snakegrrl/
https://www.tiktok.com/@snakegrrlx
https://www.facebook.com/snakegirl/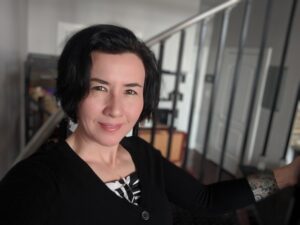 ---
Dr. Nicola (Nicky) Koper is a professor of conservation biology at the University of Manitoba in Winnipeg, Canada. She studies how wildlife is affected by human activities, and what we can do about it. In addition to leading Canadian and international research programs about environmental conservation, she works on communicating results of academic research to the public, to make sure that research can be understood and used by anyone who can benefit from it. To help teach folks about science, Nicky has founded kids' bird conservation festivals, written books for kids and adults, written articles for magazines and newspapers, and has been featured in radio and film documentaries. As a bi/pan professor, she works to make the university a welcome, inviting, and joyful space for students and other members of the university community.
Featured image: photograph of Dr. Koper