… How Sara Ramirez's Bisexual Characters are Making History… and a Difference
By Shayna Maci Warner
On October 8th, 2016, screams of queer elation sounded across the internet: Sara Ramirez, Tony Award-winner and star of Grey's Anatomy, had just come out as bisexual. Some of us had respectfully restrained from speculating about the star's sexual orientation for many years, but after viewing Ramirez's incredible speech from the 40 to None Summit in which she described herself as a "multiracial woman, woman of color, queer, bisexual, Mexican-Irish American, immigrant," I couldn't help but be among those jumping for joy. We knew it. I knew it.
Of course, Ramirez's coming out' similar to many of ours—is not a fixed event, nor is the work she did as a straight-untilproven-queer actress any less groundbreaking. She's been coming out to her family since she was 18, and has been an unapologetic activist for LGBTQ causes for years, speaking out on LGBTQ youth homelessness, HIV/AIDS prevention and treatment, queer Latinx representation, and anti-bullying initiatives. Nevertheless, Ramirez's invitation to us all to share in her identity is especially resonant considering her impressive 11-season stint on Grey's Anatomy as one of the most fully-developed, multi-faceted queer female characters in network television's history.
As a quiet, nerdy, Q-tip-shaped adolescent who had a terrible streak of crushes on boys, intensely close "friendships" with girls, and no knowledge of the word "queer"—and only periphery knowledge of "gay" and "lesbian"—Dr. Callie Torres, Sara Ramirez's fictional counterpart, was a straight-up godsend. As a series regular and then principal cast member of Shonda Rhimes' Grey's Anatomy, she was funny, beautiful, remarkably intelligent, intensely emotional, real in her flaws—and bisexual.
I would search YouTube for her scenes, hammering the rewatch button in an attempt to understand why I felt such a connection to her fumbling romances and her coming-out arc. Of course, now it's abundantly clear to me that Dr. Torres was the first, full-fledged representation of bisexuality I'd ever seen. And not only that—her portrayal was overwhelmingly positive and she was a successful adult! At that point, I had never met an out bisexual adult and I didn't know they existed.
I stuck with Grey's Anatomy for years, through car accidents and rogue hospital bombs and moving to Africa and divorces, and finally, a goodbye from Dr. Callie Torres that did not result in her death. While fans still argue about the tenor of the show's execution, Dr. Torres left the series to pursue love and to continue finding her own success and happiness, an unfortunate rarity in any queer female character's departure.
When I watched Sara Ramirez exit Grey's Anatomy, I was disappointed that I'd no longer see her in the role that allowed me to fall in love with pieces of myself that her portrayal brought to light. I actively wondered the next time I would hear the word "bisexual" spoken aloud by a bi character without a negative association. But ultimately, I shrugged, accepted that this chapter had closed, and that my own bisexuality had long since outgrown a single representation.
And all of that is still true. Since then, we have seen the incredibly funny and terrifying Rosa (Stephanie Beatriz who is bi as hell!) on the recently saved Brooklyn 99, the intense and complex Nova Bordelon (Rutina Wesley—queer as anything!) on the far-underrated Queen Sugar, her Royal Highness Viola Davis' Annalise Keating on How to Get Away with Murder (thanks again, Shonda!), and, thankfully, a dozen or so more bisexual side characters. Each character opens the door for another unique, multi-faceted portrayal to burst through; and each portrayal increases the likelihood of some awkward kid at home on their family's Netflix account realizing that these confusing, unexplained aspects of themselves aren't so scary or weird after all.
However, there is something particularly empowering in knowing that this singular, first incredible queer fictional role model is more than a construction of a writer's room. Since that fateful day in 2016, Ramirez has fully embraced her public persona as a bisexual activist, actor, and icon. In between continuing to support LGBTQ youth, conducting Instagram-accessible lectures on the misconceptions of bisexuality, and winning hearts in Mary Lambert's "Know Your Name," the cutest, queerest music video ever, Ramirez has created another undeniably queer role through Kat Sandoval on CBS' Madam Secretary.
I would not be where I am today—an out, enthusiastically queer and bisexual adult, advocate, and artist—if it were not for Dr. Callie Torres. The same may be said of other queer and bisexual people when they come to witness Kat Sandoval. And the same can absolutely be shouted from the rooftops about Dr. Torres may have been a Grey's Anatomy fan favorite, but sometimes it's even better to know just how much a character has inspired its actress. It has always been a joy to watch Sara Ramirez act, and now watching her live her truth is another affirmation of queer, bi magic, determination, and radiant resistance.
"The First Time I Saw Myself" is the GLAAD Rising Stars Grant-winning video journalism project consisting of written interviews and accompanying short videos that ask LGBTQ people: When was the first time you felt truly represented in media? This piece was originally published on GLAAD AMP and is reprinted with permission.
Shayna Maci Warner (she/her/hers) is a writer, documentary filmmaker, GLAAD Campus Ambassador, and recent graduate from UCLA in World Arts and Cultures, and Film. She will be moving on to her Master's in Cinema Studies at NYU in the fall, where she will continue pursuing the production, preservation, and programming of queer film and television.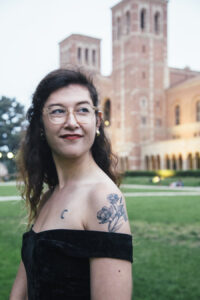 Shayna Maci Warner
Featured image: Sara Ramirez as Callie Torres (Photo credit: ABC)