By Sarah E. Rowley
Books that might be of interest to readers of the Bi Women Quarterly
Big Book News
We're now at the height of book awards season, and a novel focused on a bi woman has been short-listed for the National Book Award for Fiction, one of the U.S.'s most prestigious literary prizes. August, the narrator of Jacqueline Woodson's Another Brooklyn, featured in the last version of this column, has both male and female lovers as an adult, though most of the book is focused on her experiences growing up as an African-American girl in a Brooklyn neighborhood in the 1970s and 80s, and her relationships with her family and female friends.
New Fiction Featuring Bisexual Women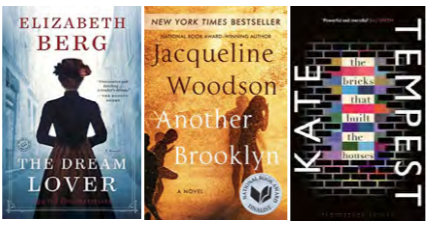 In Farzana Doctor's All Inclusive, bi and polyamorous heroine Ameera finds her job at a Mexican resort at risk from rumors about her sex life and struggles with the mystery of her father's disappearance. This is the third novel from the Indian-Canadian author who won the Dayne Ogilvie Prize for LGBT Emerging Writers and it appears to have a touch of magical realism.
Robin Talley's Our Own Private Universe, due out in the U.S. in January 2017, centers on a fifteen-year-old girl who knows she's bisexual, but has only dated guys. That changes when she falls for another girl on a youth-group mission trip. Out author Talley has published three previous young adult books about lesbian and genderqueer youth: the award-winning Lies We Tell Ourselves, What We Left Behind and As I Descended.
Alexis M. Smith's second novel, Marrow Island, centers on two bi women, childhood first loves now partnered with men, who reunite on their home island in Washington State. One has joined a cult trying to repair the damage from the environmental cataclysm that forced them to flee. Some readers love Smith's natural description of post-disaster Washington State and thoughtful musings; others have been frustrated with its slow pace.
African-American science fiction author Nisi Shawl's first novel, Everfair, is an alternative history in which African-Americans, Europeans and Africans band together to prevent one of history's great atrocities: the mass murder of 10 million people in the Congo by Belgium between 1885 and 1908. Two of the main characters in her steampunk novel are Daisy and Lisette, poly bisexual women whose complex love affair encounters as many challenges as their utopian African nation.
British rapper Kate Tempest expanded the main plot lines from her critically acclaimed hip-hop album Everybody Down for her widely-anticipated first novel, The Bricks That Built the Houses. The book centers on the relationship between a bi sex worker and a lesbian drug dealer in contemporary London.
One of contemporary South Korea's most acclaimed authors, Bae Suah, has a new novel, A Greater Music, out in English translation by Deborah Smith (the first translator to ever share the Man Booker Prize for her rendition of Han Kang's The Vegetarian). When the narrator falls into an icy river, her memories shift between her present with her metalworking boyfriend Joachim and her past with a female lover called M.
Well-established U.S. novelist Cathleen Schine has gotten widespread acclaim for her darkly humorous new novel, They May Not Mean To, But They Do, about the relationship between an elderly mother and her middleaged children. The adult daughter in the book, like Schine herself, left a long-standing marriage to a man to marry another woman.
The Dream Lover by Elizabeth Berg, an extensively-researched novel based on the life of pioneering 19thcentury French feminist and author George Sand, is out in paperback; Berg covers Sand's relationships with many famous men, including Frédéric Chopin, but suggests that the actress Marie Dorval most deeply captured her heart.
Bisexual Memoirs
Out bisexual actor Alan Cumming, fresh off the success of his first memoir, Not My Father's Son, presents a series of stories from his life involving famous names like Elizabeth Taylor and Oprah, illustrated by his own photographs. The book is called You Gotta Get Bigger Dreams: My Life in Stories and Pictures.
Originally published in 2015, Meags Fitzgerald's Long Red Hair is now getting more attention. It's a graphic memoir focused on the author's coming out as a bisexual woman in the 1980s and 90s.
Out bisexual Haitian-American feminist and culture critic Roxane Gay has delayed her memoir, Hunger, which focuses on her struggles with weight and body image, until next year, but will publish a short story collection, Difficult Women, in January 2017.
New Work from Out Authors
The biggest news on the literary front is Ali Smith's Autumn, the first in a quartet of novels about the seasons from the writer largely acknowledged to be this generation's Virginia Woolf. Smith is a disabled Scottish lesbian whose gender-bending and experimental narratives (most recently the delightful How to Be Both) have won many awards. U.K. readers will get the book in October 2016, while U.S. publication will occur in February 2017.
Out lesbian Irish-Canadian author Emma Donoghue has been deliberately inclusive of bi women in both her fiction and nonfiction since the 1990s. Her latest novel, The Wonder, is a psychological thriller focused on an 11-year old girl who becomes a sensation in 1850 Ireland by refusing to eat for several months, and the nurse determined to save her life. It's fantastic.
The New Zealand-raised, U.K.-based lesbian author Stella Duffy also has a new novel out: London Lies Beneath, historical fiction about three boys from a South London slum on a 1912 sailing trip. In related news, HBO has optioned both of Duffy's novels about the Byzantine ruler Theodora, the sixth-century child-sex-slave-turned-empress, for a television mini-series.
U.S. author Nicole Dennis-Benn has won high acclaim for her first novel, Here Comes the Sun, set in her native Jamaica. Protagonist Margot, forced into prostitution to support her younger sister, longs to admit her love for another woman, who is shunned as a lesbian. You may better know Dennis-Benn and her partner Emma Benn for holding the first lesbian wedding in Jamaica in 2012, though their union was not legally recognized. Her forthcoming novel, Run Free, tells the story of a transgender son of Jamaican immigrants.
Speaking of U.S.-Caribbean stories, out author Naomi Jackson's debut novel The Star Side of Bird Hill is now out in paperback. This coming-of-age story focuses on two sisters sent from Brooklyn to Barbados when their mother is unable to care for them, where they explore their sexuality and learn about their own family history.
Out trans author Jia Qing Wilson-Yang's debut novel Small Beauty tells the story of mixed-race Chinese trans girl Mei's journey in small-town Canada; early reviews call it "luminous."
Randa Jarrar, the queer Muslim Palestinian-American author who won awards for her autobiographical novel A Map of Home, has a second book of fiction out: a short story collection called Him, Me, Muhammad Ali.
Out author Kirsten Valdez Quade continues to win praise for her short story collection Night at the Fiestas, now out in paperback. Set mainly in tight-knit Catholic, Mexican-American communities in New Mexico, the book has won awards from the National Book Critics Circle, the American Academy of Arts and Letters, and the National Book Foundation.
Out transman iO Tillett Wright has published Darling Days: A Memoir, about growing up in New York's bohemian East Village neighborhood during the 1980s and 1990s with a loving but unstable addict mother. Reviews praise Wright's depiction of gender-variant childhood and gentrification.
Also out in paperback is Jam on the Vine by Lashonda Katrice Barnett, which explores African-American history in the Progressive Era (1897-1925). Heroine Ivoe Williams grows from a reading-loving girl in rural Texas to a crusading journalist who finds sex and love with women. Alas, the ex-girlfriend who marries a man is a villain straight out of central casting, but out lesbian Barnett shows the rise of police abuse and the convict labor system in eye-opening ways relevant to the U.S. justice struggle today.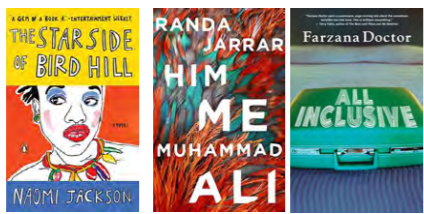 Other Books of Interest
History professor Rachel Hope Cleves has been getting rave reviews for her nonfiction book Charity and Sylvia: A Same-Sex Marriage in Early America, about two women who used a loophole in Vermont's common-law marriage statute to live as a married couple from 1807 to 1851. It's rare to see such love among ordinary readers for a book by an academic, but readers have found it incredibly moving.
U.S.-born, U.K.-based Sara Taylor's novel The Lauras has a genderqueer narrator, Alex, whose mother takes them both on a road trip across America to confront their family history. It joins other recent novels about non-binary characters like Jeff Garvin's Symptoms of Being Human and Robin Talley's What We Left Behind.
Sarah E. Rowley is co-editor of Getting Bi: Voices of Bisexuals Around the World.