Kate Michelle
I joined the LGBTQ committee at my Catholic parish (a huge rarity) and I'm one of few bi people that I know of in this group. So far, the group is still taking shape. That said, even with the small openings I've found in the Catholic community, people still focus mainly on LG issues, with a nod to transgender issues. The rest of us go hidden. So, in this group, I share my experiences, point this out, and I'm committed to keep pushing. I also ran in a local 5K to raise money for an LGBTQ+ health center. It's still quite recent for me, so I haven't done much yet, but this is where I've started.
Kate lives in the DC area with her husband and two adorable cats.
---
Jennie Roberson
Even though I grew up in a family that's been involved in local and national politics for decades (I went to my first election night party when I was nine), it took me years to discern that "activism" was not just marching in the streets. Sure, that's showy and needed and effective, but there are so many ways to be visible and speak up for causes—bi+ visibility among them. I fell into the form I do (writing) almost by accident, by volunteering to write a piece or two for bi.org. But as the years have marched on, I've come to discover the power in putting my voice out there on the digital landscape—and how often that makes space for other queer voices in the community too. Speaking your truth as a bi+ person is a form of activism, whether it's with a bullhorn or a keyboard. I'm so lucky and grateful to do some rabble- rousing for the community—in digital and analog forms.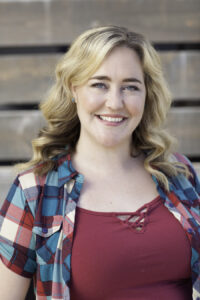 ---
Dee Dee Lynn
I've been the Facilitator Coordinator for the Seattle Bisexual Women's and Nonbinary Network, taking responsibility for meetings, training facilitators, and leading the only bi-specific group in Seattle Pride for the majority of the last 15 years. I was chosen as the bisexual leader from Seattle to attend the last White House Bisexual Leadership event in 2016. I've networked with groups with large bisexual contingents in the greater Seattle area, and most recently with Allyship, the National Park Service, and spoken at Seattle's Dyke March, and brought Robyn Ochs to a lunch with Seattle bisexual leadership. I've also been active in BiNet Seattle in the past as well as an active participant and outspoken advocate in online bisexually-focused advocacy groups.
---
Francesca Maria Bongiorno
Marching with the bi+ contingent at New York City Pride. Attending Bi Visibility Day events at The Stonewall Inn, and at New York City LGBT Community Center. Reading my poetry at a Bi Visibility Week open mic (held at Bureau of General Services, Queer Division, which is a bookstore located inside the LGBT Community Center).
---
Luiza Veado, Brazil/US
I've pushed to include bisexual issues in the work of the Inter- American Commission on Human Rights, drafting their first bi visibility day press release and also published by the independent expert in SOGI (sexual orientation and gender identity). I'm also the one person in the room that does not let the acronym discussions become LGT in international and regional meetings.
Luíza Drummond Veado is a United Nations Program Officer at OutRight Action International and she holds an LLM on International Human Rights Law from the University of Essex.
---
Jen Yockney
Three things I have done:
• Run more than 400 meets of my local bi, social, and support group BiPhoria in Manchester, England. It's the UK's oldest group and I've been there more than 25 years now. Even after all this time there are new people every month. The difference bi space can make for attendees, to be in a room with other bi+ people and not have to defend their identity, is still so powerful. The internet is fine, but people are just that much more tangible than pixels.
• Published more than 100 editions of the bimonthly print magazine Bi Community News, which has grown from a photocopied newsletter to a glossy color magazine.
• Given away around 20,000 printed copies of coming out and staying out guide Getting Bi in a Gay/Straight World to help bi people find themselves and one another.
Jen Yockney lives in Manchester, England where she has volunteered since the early 1990s with bisexual projects variously giving face-to- face support, lobbying government ministers, archiving our bi history, and telling our bi stories. She was awarded the MBE by Queen Elizabeth II in 2016 for Services to the Bisexual Community.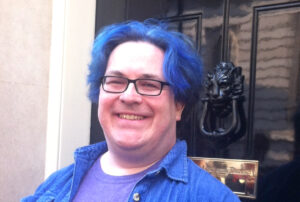 ---
Jan Steckel
I have been out as bi since a week before my 18th birthday, and started working for lesbian and gay rights making flyers for the Radcliffe Lesbians Association and the Harvard Gay Students Association. In the late nineties, I made a decision to stop pouring energy into LGBT organizations and only work for bi organizations. The exception is a lesbian-run women-only reading for which I do the publicity and where I have been out as bisexual for about fifteen years. Listening to some of the "lesbians" there talk about their love affairs with men and sometimes eventually come out as bisexual is part of my activism. I have published my prose and poetry about the bi experience in bi periodicals such as Anything That Moves, BiMagazine, Bi Women Quarterly, Bitopia, and Biscuit, as well as in lesbian and LGBT publications and mainstream periodicals. Since 1998, I've been an active member of the Bay Area Bisexuals Network, which recently became the Bay Area Bisexuals and Pansexuals Network. I've marched in the Bi (now Bi/Pan) contingent of San Francisco Pride every year for over two decades, and I've supported my husband Hew Wolff as host of Berkeley Bi Friendly for the same amount of time. My book The Horizontal Poet won a Lambda Literary Award for Bisexual Nonfiction, and my book Like Flesh Covers Bone won two Rainbow Awards in 2019: the one for LGBT Poetry and the one for Best Bisexual Book.
---
Emily A. Fisher
I joined my local LGBT center, which had been making a great community for gay, lesbian and trans folks with a physical place to meet in a conservative town. I was the first bi person on their board and started to speak up for the specific needs of our community. Over my three years as board member, two years as president, we hired three staff and I worked with the board and our new Executive Director to implement a state grant of 1.4 million dollars. The Center's name was the Gay & Lesbian Center of Bakersfield. Many times I explained how the bi/pan+ community felt about being left out of the name and how I personally felt like I wasn't included in my own organization. In the end, we changed the name to the Center for Sexuality & Gender Diversity and our services for the community have expanded, now including bi/pan, nonbinary, and ace folks.
Along with another bi advocate in the community, I helped to build a seven-week bi/pan+ workshop that explores the issues we face and have a safe space to share. We cover the complexity of labels, how to react to people's invasive questions and comments, how to navigate a relationship while bi+, coming out as bi+, representation in media, gender and more. Many people have told me the workshop changed their lives. The workshops give them that place to be valid, develop the words and find out they are not alone. We've been running four-a-year since spring 2017.
Emily A. Fisher works in California as a geologist. They are an advocate for the LGBT community through education and community building as well as being an enthusiastic rock climber.
---
Amy Luettgen
In the past two years I have organized Bi+ Pride Milwaukee (BPM). We have gone from having zero presence in the Milwaukee LGBTQ community to winning a Pride Award at Milwaukee PrideFest for best LGBTQ organization in 2019. When I accepted the award for BPM, I gave a short speech about how the bi community has been present and engaged in activism since Stonewall and that the B in LGBTQ has never been silent but, far too often, erased. BPM offers support and visibility to bi+ folks in our metro area. We have various activities such as bi cafe, happy hour, game nights, bi+ crafternoon, a discussion group at our local LGBT center, bi+ hiking and biking groups and more. We have been a presence in the Milwaukee Pride parade for the past two years and I recently reached out regionally to invite the Chicago and Madison bi groups to join us at the Parade this year to start increased geographical activism for our non-monosexual community.
We have grown our local social media following from about 150 when I first started being an admin to over 1000 folks who follow us on Facebook alone. We have been featured in local media. It has been insanely gratifying to see how folx feel supported by our activism and visibility. We have so many plans going forward and there is continued enthusiasm as we work to grow our vibrant, valuable, supportive bi+ community in Milwaukee. Our focus as we start this new decade is to continue on our strong foundation to build a supportive, sustainable structure for our beautiful and diverse bi+ beings and to work to be included in local queer events and organizations. As a bi+ person who has been out for well over four decades, but struggled with invisibility and erasure, it has been amazing to look to the future with so much hope and excitement as we raise our profile locally and regionally. As a mother of three wonderful people, two of whom are bi+, I am so glad I stretched my comfort zone to be a voice for our bi+ family. It has been a delight to see so many people come forward to lend a hand and participate in this important endeavor!
Amy is an organizer with the award-winning group, Bi+ Pride Milwaukee.