By Amanda Morgan
I only heard about Creating Change fairly recently. In the winter of '08, I heard that there was "some gay organizing thing" that my college was sending some students to, all expenses paid. Sounded intriguing, but it was too late for me to get involved and I was too consumed with my senior thesis to really give it much thought. Despite my outspoken political nature, I didn't have much contact with OPEN, the LGBT student group on campus. My organizing centered more around the Women of Color Organization, which was home to many queer and bi women and allowed me to address issues of racial and economic justice at the same time as issues surrounding sex and sexuality.
It was my passion for intersectionality that led me to becoming the Vaid fellow at the National Gay and Lesbian Task Force Policy Institute in September. I was ecstatic to be in a place that "focuses on racial and economic justice broadly defined" and within an LGBT context. As January began, and so with it the frenetic push towards Creating Change, I was excited to see this conference for myself while simultaneously representing the Task Force.
At the conference, I somehow managed to expand my already tightly packed schedule to accommodate nearly a full day of bi-related activity whilst maintaining all my (numerous) Task Force related commitments. And I am sure glad that I did, because of all my wonderful experiences at Creating Change, those are the most memorable and inspiring.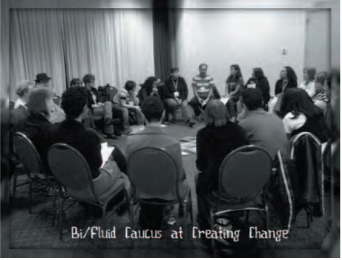 I began Friday (well, after my 7:30 a.m. NGLTF staff meeting and an hour at Kinko's…) at the workshop presented by BiNet's president, Luigi Ferrer, and Stewart Landers from the Department of Public Health: Bisexual Health: What Do We Know and What Do We Do. Even though I missed the first twenty minutes thanks to my Kinko's debacle, it was already a breath a fresh air to be in a room full of bis and bi allies. I hadn't fully felt how gay-centric my life had become until I sat down in that circle. This was a feeling that would become more palpable as the day wore on. Listening to other folks share their stories of remaining closeted with their health care professionals as well as the costs of coming out, I felt the old bisexual fire coming back to me as I recalled viscerally the biased treatment (as well as the false information) I had received from my old gynecologist. Why is it so difficult for medical professions to tell the difference between behavior and identity? And how dare someone be a provider of sexual heath and not know or understand how my sexuality functions and how I may or may not be vulnerable to disease!
After a brief break (i.e. another visit to Kinko's…) I returned to the same room to experience Robyn Och's workshop Crossing Lines: Identity and the Sexuality Spectrum. As someone who spends a lot of time thinking (and obsessing about) boundaries and boundary crossing, I was pleasantly surprised by the new things I learned as well as by how much fun I had. I was aware of Kinsey and Klein but not of Michael Storms and his scale. Moreover, I was simply enlivened by the number of folks who showed up to the workshop and were so engaged in this unpacking of assumptions concerning sexual identity and behavior. With all the bi-phobia and bi-invisibility members of our community have experienced — who would have thought that there would be such a display of enthusiasm! Robyn's exercise wherein folks created their own multi-level sexuality scale throughout time illustrated so beautifully how tenuous these categories to which we grasp really are. Everyone fluctuates and many folks idealized a place on the scale at which they were not. How much time we waste privileging another sexual identity over our own…
After that burst of light, it was back to official Task Force business until I joined the Bisexual/Fluid Caucus where I was finally confronted by something which I had been (mostly) successfully avoiding thinking about all day. It had been hovering in the back of my brain like a sore spot that only hurts when you touch it but never really goes away. The previous evening we had been blessed by the inspiring presence of labor organizer Dolores Huerta. Only one problem—she left the B out of the LGBT. Sigh, I thought to myself. Typical. But she probably didn't mean it right? But it doesn't matter what she means, making us invisible is not excusable. Yes, yes, I know, but… And then there were so many other things I had to do and take care of I was distracted form this argument with my inner-bi, until Rea Carey's State of the Movement address. Again it was Lesbian! Gay! Transgender! I kept waiting for the bi but it never came. Bye Bi. Hello, that familiar pain in my chest and stomach. It sits and grows and feeds off of my own bi-phobia as long as I stay silent. I looked around for an ally but I couldn't find one. Just a bunch of happy gays and non-bi identified queers and trans folks. It seemed like I was the only one who was upset, so I pretended like I wasn't.
Of course I wasn't alone. It only felt that way and the caucus was a wonderful reminder of this. We had all noticed our lack of representation and thankfully Robyn had done something about it. She read us, with Rea's permission, an email exchange between her and Rea before and after Rea's realization of her accidental omission. Rea agreed with the need to make amends and scheduled a meeting with Robyn for early the following day. We at the caucus spent some time discussing what we would like Robyn to bring to Rea. What do we want? What do we need to feel welcome and to advance as a movement in our own right? What exactly is a bi issue? What are we organizing around? What can we form our movement around besides inclusion in the LGT?
We came up with many answers and possible solutions. Among them, we decided that we want to see a bi inclusivity section in the Creating Change program book analogous to the sections on transgender etiquette and creating accessibility as well as bi inclusivity training for all conference presenters. Who among us hasn't sunk down in our chairs or felt our cheeks go flushed when a purportedly inclusive LGBT space suddenly feels distinctly gay or trans but defi nitively not bi? This is unacceptable, especially from presenters at a conference on LGBT organizing, and must be stopped. A section on bi inclusivity would address such issues as language usage (don't forget the B in LGBT, say different sex or same sex couple instead of gay or straight couple) and assumptions (don't assume people in different sex relationships are straight and don't assume people in same sex relationships are gay) Hopefully, this would help to alleviate the invisibility and the hostility that has been felt by community members at Creating Change.
We also want to see bi youth leadership development, a Task Force bisexual leadership roundtable, increased visibility especially of bi people of color and bi youth, more bi programming (not at conflicting times), the bi tool kit (a project undertaken by an intern last summer) completed and released and, of course, who doesn't like the sound of the National Gay Lesbian Bisexual and Transgender Task Force?
Actually, many of us do have some degree of contention with the label bisexual even as we struggle to promote visibility of bisexuality. We discussed possible new terms that would be more inclusive of our community members while not reinforcing the gender binary. The conversation also moved beyond Creating Change and the Task Force as we discussed larger issues facing our community, such as the domestic partnership being legally restricted to same sex couples only in certain spheres. Believe it or not, there are those of us who would prefer domestic partnership to marriage—for everyone—even if we are in different sex relationships. So how do we address this part of the marriage movement while still being supportive of the gains made by our gay and lesbian brothers and sisters?
In short, even as we celebrated the recognition of Robyn's incredible longevity in the movement (Congratulations on the Susan J. Hyde Activism Award, Robyn!), we realize we have a long way to go. There is no bisexual organization in the U.S. that has the resources to have a paid staff . Many attendees were not even aware of BiNet or the Bisexual Resource Center. Here we are trying to reach across communities while it seems we are barely aware of each other. Yet, when we did meet and reach out to one another at the caucus as well as at the bi dinner, which was held after the caucus, we found, as I believe we knew we would, similar stories around the room. We do have complex and multilayered identities that expand beyond and within the bi, but we are all fighting to be seen and heard and not defamed. We are fighting for the right to marry (or not marry and still have benefits and have our partnerships recognized respected and celebrated) whom we chose and we fight for others to have those rights as well. And we all feel sharply the pain that comes when these things are lacking, as they often are. We are all hungering for a movement and an active supportive community. Thanks to everyone I met Friday, I am beginning to see how that's done.
Amanda lives in New York City.