By Chiquita Violette
I have not done much traveling in my life, but being a bi/ pan/fluid activist has certainly taken me places that I never expected to go.
This past January, I went to Baltimore, MD for the Creating Change Conference to co-facilitate a day-long Bi/Pan/Fluid Institute. I had attended Creating Change the year before, in Dallas, my home city, but volunteering at the bi suite occupied most of my time and I was unable to attend the Institute. The Bi institute was both a learning and a teaching experience for me, and I think I did a lot more learning than teaching. About 40 or so people attended the Institute. For me the most exciting part was gathering in groups, brainstorming, creating and showcasing new media videos—and seeing how impacting and empowering they can be.
Most recently, I went to Austin, TX, a place I had not visited in more than ten years, to attend Allgo's 5th Queer People of Color Statewide Summit. This year's event was held at the Alma de Mujer Center for Social Change, located in a lovely unspoiled territory and operated by the Indigenous Women's Network (IWN). The cabin I stayed in was appropriately named "Tree House," literally resting at the bottom of a very tall hill. I appreciated IWN's efforts to leave as little as possible negative impact on the environment. At night, there was no light pollution, and it seemed you could see every star in the sky. It was absolutely beautiful and nothing you would ever get to see living in the city.
What made the summit extra special was that I have rarely had opportunities to be in a QPOC safe-space, very similar to the Bi Institute in some ways except I could connect with everyone on racial and class intersections. The summit welcomes white allies both LGBT and straight, but this year it just so happened that there were none. Having worked in LGBT settings with other activists who were majority white, it was an eye-opener to see so many issues that we people of color face. I learned how pro-LGBT laws—such as anti-bullying—could potentially affect us (especially non-LGBT people of color) negatively in a country focused more on punishment than reform. Concern was expressed about how many activists will remain in the game to work for full equality once same-sex marriage is achieved. And we discussed whether we even want to equate ourselves to our oppressors as well as what "equality" truly means to us.
There were 14 of us in attendance and the agenda was full, as were our bellies. The food was plentiful, beyond delicious and provided by the generous Alma de Mujer staff. Outside of the opening and closing ceremonies, there were ten items for the three-day event. Each topic could easily have taken an entire day to discuss. My favorites were "Liberation through Knowledge," "Remembering and Connecting Ourselves through History," "Analysis at the Intersections" and my absolute favorite, "Creative Sharing," in which—as the name states—we each shared something artistic and creative with the group.
In between these two exciting events, I attended an event that I had never even imagined going to, and had only recently (just a year ago) learned of: the Annual White House LGBT Pride Month Reception held this year on June 15, 2012. It was already amazing for me to be invited to go, but what made it even more incredible was that not one or two but eight of us bi/pan/fluid activists were able to attend this year: Lauren Beach, co-chair of the Bisexual Organizing Project; Emily Drennen and LindaSusan Ulrich, a married couple from San Francisco, along with their two-month-old foster son; Estraven of NYABN and Bi Request; Denise Penn and Regina Reinhardt, board members of the American Institute of Bisexuality; and lastly, Morgan Goode and myself, board members representing BiNet USA.
In addition to getting to dine on delicious food and sip White House bubbly, there were a few other surreal moments that I would like to note. Here's a nice little countdown:
5) The invitation itself! I know I mentioned it already but, I mean, how is that not cool?
4) Getting to explore the White House and how polite, gracious and welcoming the staff was.
3) There was a band playing and I asked if they knew Hotel California (in my head I thought a song about a surreal experience would match the mood) and was told by the pianist he knew it but they were not set up instrumentally to play it. After the song they were playing ended, and as the rest of the band took a breather before playing the next song, I heard the pianist playing the intro and my favorite riff of the tune. It was awesome.
2) Witnessing a transman get down on his knee and propose to his partner in the Cross Hall. What a perfect place to do this!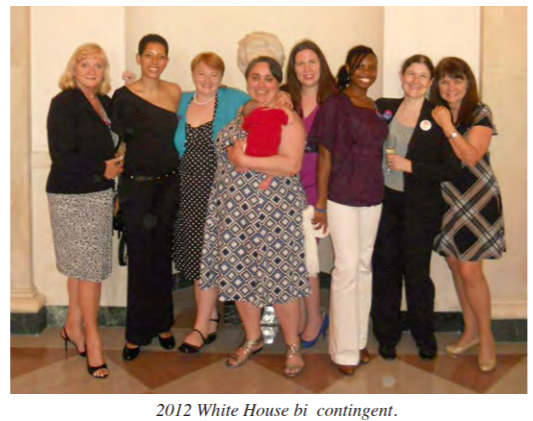 1) Getting to shake the President's hand! I wasn't able to take a photo with me shaking President Obama's hand, but I did take a (poorly shot) video of his entire speech and included as many bi activists as I could (including myself of course!).
With all these lovely and memorable experiences, I look forward to the places my pan/fluid activism takes me in the future.
Bi voyage!
Chiquita is a 27-year-old fluid POC, student, artist and activist living and workin' it in Dallas, Texas.