By Hilde Vossen
Having a Team B in Warsaw, Poland, at the annual conference of ILGA Europe was a delight. I set up this group in September on Facebook. There, we introduced ourselves and got connected. And we met together in-person at the largest LGBTI+ gathering of ILGA Europe, the European region of the International Lesbian, Gay, Bisexual, Trans and Intersex Association, 570 attendees this time. Team B included bi activists from Armenia, France, Italy, the Netherlands, Slovenia, and the UK.
Thanks to the Perspective Session on Bisexuality by ILGA Europe on November 1st, the first day of the conference, our group grew rapidly as the week progressed. Bisexual attendees from Belgium, China, Croatia, Estonia, Germany, Greece, Ireland, Norway, and Poland joined our Facebook chat group. Many of us met for the first time. We learned about one another's work, made plans for future cooperation, got closer, shared anger, made fun, and became friends.
Anger
Anger was shared because there's no LGBTI conference without bi erasure and biphobia. Alas, this one was no exception. Team B meant there were more bisexual activists at various programs. For example, while I was busy with final preparations for the workshop, Beyond Bi Visibility – The Road to Inclusion, I was about to facilitate with Dominic Arnall, I read that several bi people in the Facebook chat group were angry about a panel that addressed the gay and lesbian community only. The encouragement they provided to each other made brave bi activists stand up, be vocal, and ask questions about it. They made me feel super proud!
Fun
There was fun in quite a lot of activities, but for sure the edutainment game Bivial Pursuit, developed by Vera Di Santo, was a great bonding experience. It contains questions on celebrities, statistics, and stories. It's for anyone who wants to be updated with the latest buzz about bi+ celebrities, memorize statistics regarding the bi+ population, and master the history of the bi+ movement. Plans are being made to make the game accessible for regions of the world beyond Europe.
Friends
Chatting with a queer ally from Kyrgyzstan made clear to me that they had their first ever Bi Visibility Day event in Bishkek this year. Woohoo! In Yerevan, Armenia, my bi activist friend told me they also celebrated Bi Visibility Day for the first time. For security reasons, they can't publish event information publicly. Both my 1.5-meter Bi Pride flags are now there, one in each city mentioned. Hopefully they'll live long and demonstrate Bi Pride in private or public – as long as everybody is safe!
Call
When a call for an extra self-identified female candidate for Fun playing Bivial Pursuit the ILGA Europe board went out, queer feminist, bisexual immigrant, activist, and researcher Soudeh Rad ran for that position, nominated by the Dutch Bisexual Network, and guess what! She is now a member of the board of ILGA Europe. Very inspiring to see a qualified and openly bisexual board member who also is connected to the bi+ community. Wishing you success with the job, Soudeh! Feel the support of Team B+++! [Editor's note: Soudeh is also co-curator of BWQ's Research Corner!]
Warszawa
Finally, a group of us managed to meet with the organizers of Lambda, Warszawa's bi+ group. While we enjoyed the vegan lunch they prepared for us, we introduced ourselves to each other, and exchanged ideas for creative activism. This gave us energy and motivation to carry on with what we are doing for bi+ people.
To wrap it up: there were a lot of people in Poland wanting to connect with bisexual activists on a European level and beyond, to work together, get to know more about the issues bisexual people face, and act on biphobia and bi erasure. Bi+ folk at the conference certainly achieved the conference's theme: "Change! Community mobilizing, movements rising!"
See you at the ILGA Europe conference in Brussels in 2018!
Timeline
9/14 setting up a secret Facebook group for Team B @ ILGA Europe 2017 by Hilde Vossen
11/1 Perspective Session: Bisexuality
11/1 Setting up a Facebook chat group for bisexuals and allies at the conference
11/2 Added bi activists who died in 2017 Sébastien Gruchet (France) and Manuel Sebastia (Spain) to Wall of Remembrance
11/2 Women's Caucus, roundtable discussion by Soudeh Rad and Vera Di Santo
11/2 Bisexuals in Italy, research presentation by Vera Di Santo
11/2 Presentation of the board game Bivial Pursuit by Vera Di Santo
11/3 Soudeh Rad runs for the ILGA Europe board
11/3 Beyond Bi Visibility – The Road to Inclusion, workshop by Dominic Arnall and Hilde Vossen
11/4 Soudeh Rad chosen as member of the ILGA Europe board
11/4 Self-organized space: playing the board game Bivial Pursuit by Vera Di Santo
11/5 Visit to bi+ group Lambda Warszawa, organized by Katarzyna and Hilde
2018 Annual ILGA Europe conference in Brussels
2019 Annual ILGA Europe conference in Prague
Hilde Vossen: is #StillBisexual; Co-founder and Coordinator of the European Bisexual Network for Activists (EuroBiNet); Co-producer of the first and the third European Bisexual Conference (Amsterdam 2016); Alternate Bisexual Secretariat for ILGA World; Coordinator of the local LGBT + QIAP drink Queer aan Zee in The Hague, Netherlands; someone who loves to bring people together to make them as happy as they can be. Hilde's on Facebook & Twitter: @HildeVossen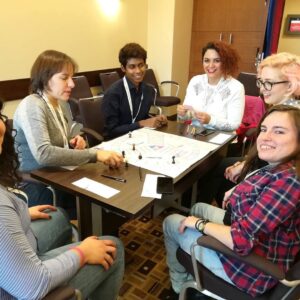 Fun playing Bivial Pursuit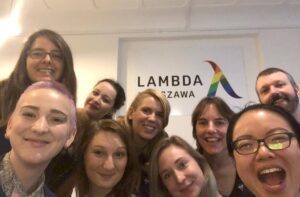 Lambda Warszawa
   Hilde facilitates Beyond BiVisibility workshop
Featured Image: Soudeh Rad, running for ILGA Europe's Board