Interviewed by Carla Imperial
Thanks for taking the time to talk with me! What's your full name?
Rhye Labrador (Rhye Labrador Gentoleo, in countries that recognize our Holy Union).
Can you tell us a little about yourself, where you were raised, and what you do and enjoy these days?
I was born and raised in the bustling city of Manila. Now, I'm permanently residing in Quezon City. My life has been very dramatic. I was trasferred to Bataan in sixth grade because my mom needed to work. She couldn't do that with my siblings and me by her side, so due to these complicated circumstances we stayed with our father's family.
Now, I am 31 years old and I am a public servant, in the Local Government of Quezon City for nine years now, handling life skills trainings, career guidance and employment coaching, and women and youth Empowerment. I am an active member of the Quezon City Pride Council and Side B Philippines. I am also a freelance event-host and singer.
I love reading, watching documentaries, public speaking (motivational), and cooking, and I have certified wanderlust, hoping to travel to all of the 81 provinces in the Philippines and out of the country before I get too old!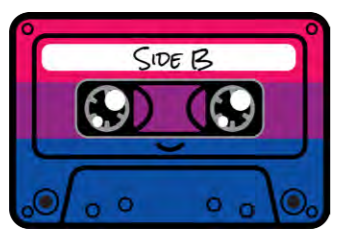 What is Side B Philippines?
Side B PH is a non-political organization founded in 2016, whose members identify as bisexual, the B in LGBT+. It was founded by bisexual activist Raffy Aquino and Fire Sia. After aligning definitions and organizational goals, it was officially launched at the 2016 Metro Manila Pride March.
The main advocacy ares of SIDE B PH are:
SOGIE Awareness (sexual orientation & gender identity and expression)
Information and
Dissemination
Employment Equality
Bi-Visibility Campaigns
The organization focuses and develops the above-mentioned advocacy areas by researching and compiling references to bisexuality in the Philippines, running online surveys related to each advocacy area, and conducting SOGIE and diversity inclusion talks and seminars in mostly corporate spaces. We also assist students with research papers related to LGBT studies and accommodate interviews and the like.
SOGIE in the workplace is one of our main points in every forum or seminar we cater. We want to create a safer space for the community in terms of employment, education, etc.
How do you personally identify, both in your gender expression and sexual orientation? How did you "arrive" at this identity?
During my elementary days, I was often called "tomboy" (meaning lesbian in the Philippines), maybe because of the way I carried myself, cut my hair, and talked. It did affect me a bit, because I knew that I wasn't. I didn't have any crushes at that time, except in sixth grade, when a boy said he liked me and I blushed! At that young age, nothing lasts too long, though, because how can you expect any feelings to develop further, when you're too busy playing sports and playing outdoors!
When I reached high school, that's when the confusion started. I started to feel attracted to men, had some suitors, but I also had attractions to women. That part I tried to ignore, though, as my father's family is Christian, and they implied to me the immorality thing (you know that I mean). But as I grew older, I realized that my attractions were not just for men. I realized that I am a bisexual woman. I acknowledge that I have the potential to have attractions romantically and/or physically to people of more than one sex, not necessarily at the same time, degree, or way. I am more attracted to men (that includes transmen because transmen are men ♥) and lesbians (hard butch in particular).
I went through confusing times, like a typical human being, and I started to search and read, joined support groups, watched documentaries about LGBT and the like. Now, I'm happily married to the man of my life, Nel. Oh, and the person that I first came out to is my mom.
Although it wasn't easy to come out to my Christian family, I was not worried about myself because I am strong enough to accept whatever reaction they'll have. Whether they accept me or not, it doesn't matter, as long as my mom (the only person who has stood beside me through thick and thin before Nel came into my life) accepts and embraces me. I was worried about my husband's feelings, but he has been really supportive and has said, "Whatever they think of you, it doesn't matter at all. What is important is that we have each other and the people who truly care and love us will always have our backs." And we've been together for more than three years now!
What is the general acceptance of bi people in the Philippines? Is being bi as accepted as being gay or lesbian?
I think it's more tolerated than accepted. For some, it's better than nothing! But for me, being "tolerated" is not enough. Bisexuals are usually referred to as the "introduction to being gay or lesbian." Like, seriously? And also, being bi, for some, means "straight-looking gay." As for bisexual women, they often say that there's no such thing as that; "you're really a lesbian," as if they know what we really feel.
Society now is more accepting, I should admit, thanks to the LGBT champs and advocates for helping us to educate people.
Is there same-sex marriage in the Philippines?
There are religious sectors (progressive Catholic groups, for example) who do Holy Unions for LGBT couples. There is no law saying that it's legal nor illegal. We had our holy union December 10, 2016, the same date of our first anniversary, and it was officiated by Bishop Regen Luna.
Are there specific Filipino terms used to describe LGBTQ folks?
Tibo or Tomboy, for lesbians; Silahis, for masculine gay men, Paminta, for bisexuals, Bakla means gay, to name some. For bi people, they call us greedy and free for all. (Can you imagine? Hahaha!)
A Filipino American told me about the term FilipinX which is meant to be inclusive of all genders instead of referring to Filipinos (masculine) and Filipinas (feminine). Is that term used widely in the Philippines?
FilipinX isn't widely used here in the Philippines, and to be honest, I haven't encountered such a term. But in reading about it, I don't think it's acceptable to some Pinoys (people from the Philippines). It's like they're being forced to cater to Western standards.
What are the general thoughts about President Duterte of the Philippines? Have there been any concerns about the rights of LGBTQ people since he's been in power?
Ah, President Rodrigo Roa Duterte. The Iron Fist President. The people who don't believe in him called him a psycho, and the people who love him, praise him and look at him as the real-life superman of the poor. I may be a public servant, but I'm not really into politics. Seeing the pros and cons of his administration, I must say that it depends upon who you are talking to if you want to know more about him.
For me, I see how he protects his people, how he fights for the extermination of drugs. But I also fear that he is a man with no hesitations who will break down any kind of barrier in his way. I'm worried about his regard for women and I hope he will be more mindful about his words towards women. I hope he will embrace the LGBT community and make the Philippines a safe haven for us. He knows that we don't ask for too much; we just want equality and acceptance, regardless of sexual orientation and gender identity and expression. In 2017, he considered creating an LGBT commission, and even looked for a representation of LGBT in the Anti-Poverty body. He even said that there is the possibility of the legalization of same-sex marriage in the Philippines,. I am hoping for the best and that our president will work harder to make those things possible. And also, may he leave a legacy, to pass the SOGIE bill before the end of his term as president of the Philippines.
I always hope and pray for love to conquer hate. In all aspects. In all places. At all times.
Maraming Salamat, Rhye. Thank you so much.
Carla Imperial is a Filipino American writer & musician living in Northampton with her wife of 25 years, Megan, and their 11-year-old daughter, Kai.