Like many other bisexuals, I never saw myself as part of a community. I was always an ally to my gay friends, but I never felt like I was also included. It was the community I helped build that played a huge role in helping me realize that I could speak as an advocate on my own behalf.
I was born in 1991 and raised in La Serena, a coastal city in the north of Chile, a six-hour bus trip to the capital city, Santiago. Despite having spent my entire childhood and adolescence thinking I was heterosexual, I did feel attracted to multiple people, regardless of their gender identity. My family was pretty accepting of sexual diversity, and my teenage years were spent primarily with my gay friends: we would go to drag queen shows and experimented a bit by playing spin the bottle while jamming to Placebo, t.A.T.u., and Britney. Back then, being a girl who kissed other girls while being straight was considered a curiosity and not part of an identity. Also, most, if not all, of my gay male friends first came out as bisexual and then eventually admitted that they were actually gay. That built up an entire idea of bisexuality as a phase in my mind.
It took some time for me to accept the fact that I was bisexual. After a terrible, violent, and nearly life-consuming relationship with a man, I met a girl who shared my name, and I was instantly attracted to her mysterious, edgy aura. She was a lesbian, a student of Psychology, and a bartender at the indie pub I frequented. We started a semi-secret relationship in 2012. She was out of the closet with her friends, but not with her family, and I felt the gayest I've ever felt at the time. I was ready for my family to ask me about my sexual orientation, but it never happened. 
By the end of our relationship, when things weren't great anymore, I met her first boyfriend who was also her distant relative. I was quite jealous of him at first, but I ended up completely falling for him the moment he showed up at a baptism ceremony we all attended. At 22, that was the moment I clearly recall thinking, "OK, this is a bit more complex than I thought. I'm bi." We ended up having a relationship that continued on and off from 2013 to 2017. In 2014, I moved to Santiago and became pretty vocal about my orientation, but I had zero success at dating women. Despite that, I never stopped feeling attracted to them as well as to guys who were straight or bi, but who were perceived by their peers as gay. Traditional masculinity not only bored me—it also scared me, so I was never really drawn to it.
2015 was a key year for my career, which I haven't discussed yet in this piece. I got my first degree in English-into-Spanish Translation in La Serena, and then I moved to Santiago to pursue my all-time dream of becoming a journalist. In 2015 I found a job at a Buzzfeed-like website. There, I met Isaías, and we became friends almost instantly. We quickly realized we were both bisexual and that drew us closer together.
After many years discussing and designing projects that never saw the light of day, we finally took a big step in early 2019. We went for coffee and ended up creating the first Spanish-spoken podcast about bisexuality: BBB. Those three Bs stand for "Bueno, bonito, y bisexual" (which could be translated into "Good, cute, and bi"). We started out discussing bisexuality in pop culture and analyzing several myths regarding our sexual orientation. We felt the podcast format could be more useful for people who could listen to it on the go—especially bisexual Chileans who had never had a bi companion in the form of media or non-profit organizations. BBB was meant to be an educational platform, but it became so much more. I consider it to be a form of activism. 
2019 was a key year for Chilean society. After decades of broken promises by past governments, and still wounded by the brutal dictatorship we endured for 17 years, we took our rage to the streets and demanded systemic change. Most of us felt the need to join forces and to get to know each other face to face. That's how we held the first Chilean bisexual encounter, and to this day we've organized digital meetings and workshops to discuss books and educational material about bisexuality not only with Chileans, but also with anyone who spoke Spanish and wanted to be part of our initiatives. Our goal with BBB is to consolidate our community as much as we can and join forces with activists and allies from all over the globe.
Both 2020 and 2021 have been all about expanding our horizons and trying our best to provide access to bisexual studies from all over the world. We have gotten in touch with bisexual individuals and communities from Argentina, Perú, México, Colombia, Spain, Honduras, and the United States. I've personally translated many resources into Spanish so that we can offer information and workshops to anyone who wants to learn a bit more. My aspiration is to create a solid community and to not only read about "first world" bisexuals, but to also encourage research in this region. Knowing the Chilean bisexual experience is key to making the general public understand us and take us seriously, as we deserve. There's so much work yet to be done in terms of mental health and education in our country, but I have faith that things will be different in a not-so-distant future.
Becoming a bisexual activist feels a lot like walking on eggshells at times, as there's not much in terms of information or manuals to make sure our efforts are effective, but I believe education and community will fuel us to finally break away from our historical silence. We've spent enough time in the shadows. I'm convinced that together, we'll finally be able to see the light.
Estefanía Sepúlveda and BBB Podcast can be found online on Spotify, Apple Podcasts, iVoox, and Google Podcasts. Find them on social media at: instagram.com/bbb__podcast; twitter.com/bbb__podcast; tiktok.com/@bbb.podcast and youtube.com/bbbpodcast. If you want more specific information, or seek to contact BBB directly, e-mail them at buenobonitoybisexual@gmail.com.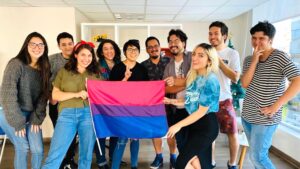 2019 BBB event. Estefania is 3rd from right, holding the bi pride flag. Isaías is two people to the left.