This column is under the capable supervision of Renate Baumgartner and Soudeh Rad. Renate, in Vienna, Austria, is currently conducting research on bisexual women and their experiences of discrimination. She holds a Ph.D. in natural sciences, is a bi+ activist, and offers workshops for bisexual empowerment. Soudeh is an Iranian gender equality activist based in France and cofounder of Dojensgara.org, a website about bisexuality in Persian. Some columns will be written by Renate, some by Soudeh – and some by both. If there is research on bisexuality that you would like to bring to their attention, write to them c/o biwomeneditor@gmail.com.
Perceptions of Bisexuality in France
By Soudeh Rad
In celebration of the International Day for Bi Visibility on September 23, 2012, four nongovernmental organizations (NGOs) launched the first questionnaire on bisexuality in France. Even though France is famous for its liberal sexual culture, this is the first French research on bisexuality. Act Up Paris, Bi'Cause, Le MAG Jeunes LGBT (an LGBT youth magazine), and SOS Homophobie (SOS Homophobia) decided to launch the survey to learn about perceptions of bisexuality, bisexual people, and their behavior.
During the three months of data collection, 6,107 individuals responded to this nine-question survey. As there was concern that an online survey promoted by an LGBT website would bias the results, questionnaires were also disseminated on the streets of Besancon, Marseille, Montpellier, Nantes, Paris, and Strasbourg.
The respondents' sexual orientations were 32% gay (men), 25% straight, 14% lesbian, 25% bisexual, and 4% not listed. For gender, respondents were 54% men, 43% women, and 3% not listed. Most of the respondents (66%) were between 18 and 34 years old. While the respondents are not representative of the overall French population, this study was a pilot study and still provides intriguing initial insights.
One of the questions asked participants to provide their perceptions of bisexuality, and 85% of respondents indicated that it was a sexual orientation like any other, with 15% describing it as a passing phase, a deviance, something that doesn't exist, and similar responses.
The percentage of male respondents designating that bisexuality "does not exist" (14%) was twice as high as the number of female respondents answering the same (7%).
Next, the researchers asked participants if they knew someone who is bisexual. Of those who responded to this question, 75% said they did know at least one bisexual person, mostly as friends. While this number is quite high, only 12% of the respondents knew one or more bisexual people as a family member and only 13% knew they had a bisexual work colleague. A little less than half (46%) of respondents knew at least one bisexual celebrity and 38% could name one. Responses included Angelina Jolie and Lady Gaga, while few French celebrities were mentioned. This lack of French celebrity representation and lack of bisexual visibility in families and workplaces may be supporting bisexual stereotypes.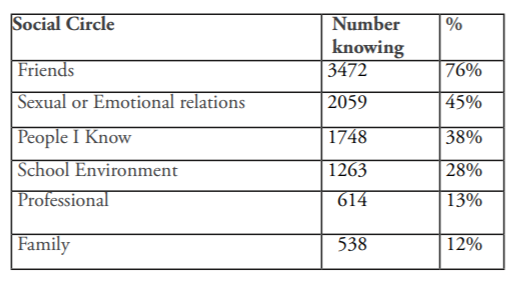 In 2014, SOS Homophobie received 230 reports of LGBT discrimination by family members and 189 reports of LGBT discrimination by work colleagues, and these environmental factors may be keeping French bisexuals from coming out to their families or in their workplaces.
The researchers also asked respondents if they would have sexual or romantic relationships with bisexuals, and the majority of respondents indicated that they would not.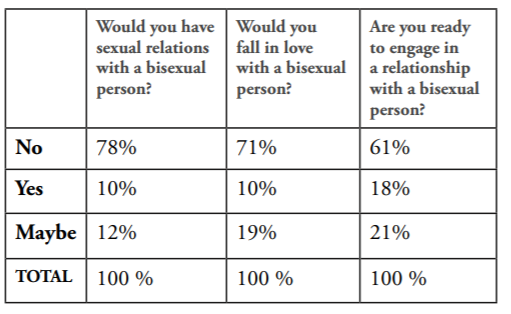 The researchers further analyzed this data by sexual orientation of the respondent. Straight respondents were most likely to avoid sexual and romantic relationships with bisexual people, which may lead bisexual people to hide their identities from their straight partners.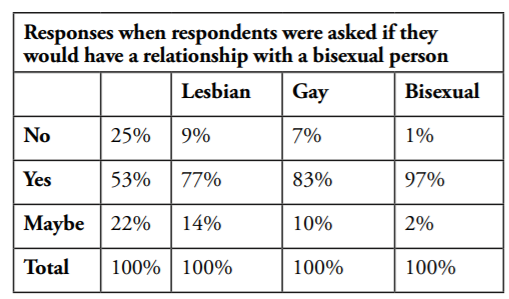 While most respondents recognized bisexuality as a sexual orientation, stereotypes continue to stigmatize bisexuals in French society. This is evidenced by the high numbers of respondents who accepted bisexual stereotypes and indicated they would not have sexual or romantic relationships with bisexual people.
For more information, you can download the French full report published in 2015 here, and the two-page leaflet here.