Review by Femily (aka Emily Meghan Morrow Howe)
Note: The author goes by either she/her or they/them pronouns; I'll be using they/them in this piece.
I jammed through this book in 20 hours: a Big Deal for me since I usually have 12-15 feminist non-fiction titles going at once that take a collective year to read.
But Greedy was different. As soon as I read the dedication—"To my parents, who promised they wouldn't read this"—I was obsessed with the author's free-spirited, self-accepting tone. I was greedy (ha ha!) for more of this intelligent, timely read by newly "out" bisexual (and anti-racist and she/they pronoun user) thought leader and influencer—Jen Winston. You may know Winston as the person who started the viral feminist account GirlPowerSupply (now retired) or by @jenerous (on TikTok, IG, and Twitter).
In Greedy, Winston shares their innermost thoughts (and emails and texts!) on how the patriarchy shapes—and how we make sense of —our orientations, genders, pronouns, ideal partners, friendship, and our #bestlife. I loved being a fly on the wall of the boardroom and bedroom, watching Winston make all kinds of juicy explorations and feminist findings. They cover a wide range of urgent yet not-often-discussed topics, from coming out as bi at work to the art of dating a couple. Winston retains their on-brand frankness in all things, including (un)learning racism and owning up to their white privilege.
While Winston's book technically reads like a one-person memoir, it's also so universally relatable. In the cover quote, Broad City's (bi) star Ilana Glazer says that Greedy made her "feel safe, seen, proudly queer, and proudly woman…" As bi women who are so often partially invisible, depending on the relationship or circle we're in, Winston's story gives bi readers a permission slip to be seen and celebrated in all of our intersecting complexities. And they acknowledge Greedy's power to do so: "It's the book I wish I had growing up—I wrote it on the off chance that you might need it too."
Winston says the algorithms show that their fans are "bisexual, social justice warriors, or sluts (if you're lucky all three)!" I couldn't agree (or relate!) more. As someone who "came out" in 1997, I loved Greedy for giving me an updated look at how the next queer generation is making sense of identity and self in 2021—especially given the tools of online dating, texting, TikToking, and digital nomad life—and amidst a greater acceptance of queer identity and sexual exploration.
This book absolutely made me smarter, more current, and more in tune with my (bisexual) self. 
Femily is Silicon Valley's Gender/Inclusion Advisor and founder of the wildly popular "From Bi Curious to Bi-Confident" video course featuring in-depth interviews with 8 millennial bi women of all colors (https://www.femilyonthego.com/bi).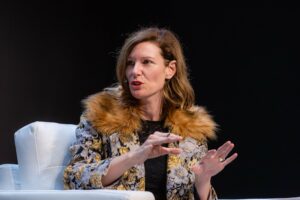 Femily