By Jen Bonardi
"Queer, punk, artist, and zinester all go together in the same persona," says Jonathan Valelly. He would know: he's a gay man, a lifelong punk, a prolific writer, and until recently, the longtime editor of Broken Pencil, a Canadian magazine on zine culture.
Zines are homemade mini-magazines, traditionally published with the help of staples and a Xerox machine. Although the medium began roughly 90 years ago as sci-fi program "fanzines," many trace the origin of modern zines to the 1970s punk movement. If you watched last year's Netflix movie Moxie, you saw Amy Poehler's character wax nostalgic for zine culture during the riot grrl movement of the 1990s. The film focuses on the recent resurgence of interest in the medium, which Valelly attributes to the boom in comic books.
So what is the common thread running through sci-fi nerd, punk, riot grrl, comics geek, and queer identities? It's counterculture. And not coincidentally, that's a hallmark of the zine scene. "The queer punk political energy never went away," Valelly says, noting that the outset of the medium's renaissance was some time between 2010 and 2015. His theory is that this new generation of zinesters is disenchanted with the internet and smart phones. Generation Z wants an authentic analog experience—the realness of folding the paper, seeing a tangible process from beginning to end. "It's like they're hungry for something they never had because it's so much realer than a Grindr profile," he quips.
The allure of zines for young queer folks is also connected to its ephemeral impact—a rare treat in our current media landscape. "Zines are a safe place to experiment, make mistakes, fail, and have regrets because they won't last forever, unlike your Facebook post from when you were 13," explains Valelly. He reveals that the zine world actually has "a really intense institutional memory" but even if you write something appalling, it won't be forever presumed to be an intrinsic part of you.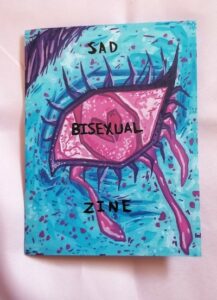 Zines not only give you space to change but also provide a generally progressive audience that focuses on good mental health. "If you're just a teenager trying to figure out your gender by writing about it," says Valelly, "I think that zines are a perfect way to do it." Furthermore, the direct distribution model of zines builds a tighter, more intimate community, giving young queers a sense of the subtly exchanged signals from when being gay was truly counterculture.
But let's get to the important stuff: what could Valelly tell me about bi+ zines? Unfortunately, not much since there haven't been enough bi+ zines to track their trends. What's worse is the reason why: "Homopunk and queercore has this very anti-authoritarian, anti-normative thrust. And there still are strains in queer culture that see bisexuality as less radical, somehow, as though it's a choice. It's bullshit, but there's an orthodoxy even in the zine scene, in some ways."
Ugh. This? Still? Even here?
But as quickly as this revelation causes my spirits to plummet, Valelly offers a light of hope. Clementine Morrigan, an old pal from his zine fair carpools, recently created a zine about her experience as a bisexual woman that he thinks I'd enjoy. I buy and download Fucking Girls—ah, a digital zine! Very 21st century!—and promptly get my socks knocked off.
Here are some of Morrigan's words that bowl me over with their resonance…
"The way my queer card is always on the brink of being revoked…"
"…feeling like a creep when expressing my desire for femmes…"
"…the way we attach queer legitimacy to particular sex acts makes them feel loaded and stressful…"
"…The violence of compulsory heteronormativity…We bring [it] with us into our queer worlds and our queer relationships…"
"…it ends up feeling like a friend hang out and I want desire to flow between us but I don't know if it's wanted…"
Excuse me, who let this woman read my diary?
In reading Fucking Girls, the potential for bi+ zines suddenly feels unlimited. Morrigan's zines show how relatable and inspiring these DIY treasures can be. I begin surfing around for more bi+ zines and stumble upon: Bisexual Survivors: Why Our Experiences Are Valid by Nuage Collage, about bi+ interpersonal violence survivors; Love Is Love Is Love by Creepy Cheese, a serial zine on creative projects from bi+ people; and bi+ zines from Slovenia (Bizine by Kvartir) and Germany (Make Me Feel by SchwarzRund and SimoTier).
I ask Valelly how I might conduct a more directed search. He replies that most people get zines from fairs and zine libraries. Again, it's these hand-to-hand distribution methods that keep the zine community small and personal. For bi+ zines specifically, he recommends looking at publications from Back Pocket Press and Mend My Dress Press, and giving Bolerium Books in San Francisco a call. And naturally, he suggests that I follow Broken Pencil on Instagram.
Valelly believes that the online craft marketplace Etsy.com is a popular source of zines. When I visit Etsy, I find Scotland's Foma Press which features three spectacular zines on bi+ history and activists. Other corners of Etsy yield A Guide to Overcoming Internalized Biphobia by Shelby Foss, and Becky Peel's Bi the Bi: A Zine about Coming Out to Yourself. Confirmed: Etsy is a bi+ zine goldmine.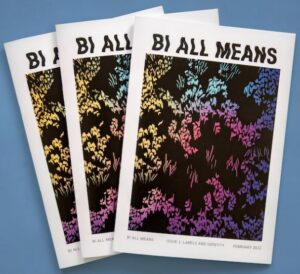 If you delve into the site yourself, you'll notice that most of their zines are available in digital format. The internet does make accessing zines easier, although you could argue that something is lost in eschewing material production. In my opinion, the bigger concern this brings is the change in the distribution method. What creates the close community of zine appreciators, according to Valelly, is connecting with each buyer by handing your zine to them at a fair or packaging one for postal mail. My experience is that while making zines available online does widen access, you will probably still rely on contacts in the scene to find what you want.
Perhaps the biggest advantage to connecting zine culture to the internet is the creation of online zine archives. With the help of the Queer Zine Archive Project (QZAP) at QZAP.org and the Bi/Pan/M-spec Zine Directory at BiPanLibrary.com/zines, I found classic bi+ zines like Boobular by Thami and Spork by Jeff Zick, both published in the 1990s. If you have little luck in finding bi+ zines using zine-oriented search engines, try looking through some bi+ sources. In fact, you can find mentions of two exemplary serial bi+ zines, Fencesitter and The Fence, in none other than Robyn Ochs and Sarah Rowley's book, Getting Bi.
Guess what else is considered a zine for and about bi+ women that started in the 1990s? Yep, you're reading it right now.
Maybe it's not that there aren't enough bi+ zines to generate trends. Maybe it's more that the ephemeral nature of zines, as borrowed from punk life, makes it hard to find and synthesize that information. The advent of the internet didn't make it simple to penetrate the zine world. You have to put effort into it and connect with real people who can guide you to zines that speak to you.
As we're talking, Valelly empathizes, "It can feel very lonely when you're the only bisexual at the Queer Zine Fair." But it doesn't have to be this way. There's so much more to say about being bi+.
Jen Bonardi served on the Bisexual Resource Center (BRC) board for five years and created bisexual character extraordinaire, Tiggy Upland.
---
Featured image: Bi+ TV Trope, by Jen Bonardi