By Meredith Worthen
My daughter is almost ten years old, and I have made efforts throughout her life to practice queer parenting. In my view, queer parenting is an approach to raising young humans that engages with their own unique selves in ways that cultivate their natural skillsets and support their growth. I also see queer parenting as centered around understanding our own social locations with privilege and oppression and in turn, encouraging empathy and calls for activism/social change.
A lot of this approach comes from my parents who raised me using a liberal mindset (but I doubt they would use "queer parenting" to describe their approach, because I am nearly 40 years old and I grew up before the "queer as social activism" movement started). My parents always answered all my questions in depth (and this was no small feat considering we didn't have the Internet back then), we conversed using "big words" (my mom was an English teacher), and I generally felt respected and valued as a small child (all of which are also hallmarks of my definition of queer parenting).
My partner and I co-parent with one central goal: respect. We meet new challenges every day just like all parents do, but respect for our daughter and for each other is always at the heart of our approach to queer parenting and marriage for that matter.
By far, one of the most amazing things that I have learned in the past decade is that the parent is not always the teacher, and sometimes it is quite the opposite.
Let me tell a little story to illustrate:
It was my birthday, and we all were out to dinner for this special occasion at a "fancy" restaurant. My daughter has a rather sophisticated palate for an almost-ten-year-old and she always orders two scallops (a la carte) as her meal (plus a Caesar salad, of course, with calamari to start). On this particular occasion, I took the opportunity to point out something I thought would be helpful information. I said something along the lines of this to her:
"You know, when you grow up and go on dates, you might not want to order expensive things like scallops and you might not want to pick such a fancy restaurant like this one either because it can just be too expensive and you don't want your date to feel like they have to spend a ton of money."
Already YOU can probably spot my error in this hypothetical "date" example, but honestly, I didn't. But my daughter did. Her quick response was something like this:
"Well then I will just be the one to take my date out and I will be the one to pay for my scallops."
My response: PALM TO FOREHEAD.
And just like that the student became teacher and the teacher looked like an idiot. Well,  not really. I was actually so very proud in that moment. I messed up by making my hypothetical date scenario incredibly heteronormative and she fixed it by pointing out that she could pay for her own date. She "queer parented" me. How cool is that?
This little moment with my daughter reminded me not only that the student can become the teacher, but also, that we can learn a lot from our kids. Circling back, this moment also feels like firm evidence of queer parenting because I felt my daughter recognizing her own social location with both privilege and oppression and then making a clear statement that she can be in charge of her own dating dynamics (when the time comes, of course), whether they be heteronormative or not.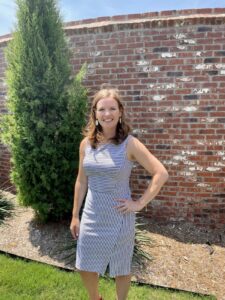 Meredith G. F. Worthen (she/her/hers) is a Professor of Sociology and Sexualities/LGBTQ Studies scholar with key interests in stigma, prejudice, and crime. She is a social justice activist for the LGBTQ community, especially through her creation of The Welcoming Project, and an advocate for survivors of sexual assault through her work as #MeTooMeredith. As a researcher, teacher, and activist, she dissects multiple dimensions of prejudice in efforts to cultivate understanding, empathy, and social change.
---
Featured image: Self portrait by G, age 5